COVID-19 and the Janning family's Kruger Safari during South Africa's Lockdown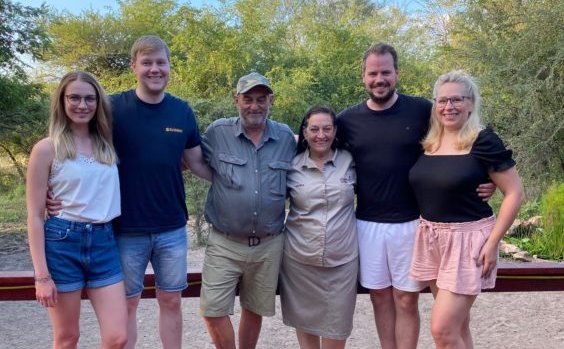 A family making the most of their extended safari in South Africa...and keeping fit.
Stranded in South Africa and yet not unhappy !
Pictured here:The Janning family from Berlin-Reinickendorf with their hosts in the lockdown, from left to right: Alexandra Ryzhkova, Sven Schulze, Dirk Grove, Marina Grove, Matthias Janning, Katharina Janning, currently south of the Kruger National Park. And here is her story.
The Janning family had planned a vacation in South Africa in Reinickendorf. This has resulted in a longer stay, because there will be no possibility of return flights in the foreseeable future, the Jannings are simply too far away from all airports for that. But they have found new friends, they wrote in an email to the Reinickendorf newsletter. Here is the slightly edited report by Matthias Janning:
"We are currently south of the Kruger National Park. The park border is about 800m away. We are currently in Marloth Park in the Turaco Lodge . My wife and I left for our South Africa vacation on March 13th. At that time, such an aggravation of the situation was never conceivable. In principle, it was no longer possible for us to leave the country since March 21, a week later. We tried this by booking new flights through the Emirates airline.
But those flights were also cancelled 24 hours later. Establishing contact with the airlines was impossible. Not even the airport in Johannesburg could be reached. However, we were lucky because we stayed at the Turaco Lodge with two other Germans, managers Marina & Dirk Grove and their daughter and two children. They treat us like their family.
After it was announced that the lockdown was coming, the owner of the lodge and the managers immediately decided that we didn't have to pay for our accommodation any more. They didn't want to profit from our plight. We only pay for our food. This gesture moved us incredibly, because the livelihood of the people here is now breaking away.
Our life in the lodge is more varied than you would think ... In the evening we cook together. We are currently alternating with the courts. A day in German. One day of South African food.
And at night we can hear the lions roaring in the park. This is very impressive and an incredible experience. When and how we can leave South Africa is unclear. The embassy tries to organize flights. However, there is currently nothing specific. We are five hours away from Johannesburg, the military controls the streets and ensures that the lockdown is observed.
Shopping is possible. But only on your own, with a face mask and gloves. Otherwise, it is not allowed to leave your home ... Currently, one person purchases the necessary things for us every three days. There were no hamster purchases here ... Otherwise, we try to make the best of the situation and make friendships here for life. "
+
This article recently featured in The Tagesspiegel newsletter for Berlin-Reinickendorf.