Belmond Savute Elephant Lodge
A timeless explorer's lodge that beats with the pulse of wild Africa
Beside the mysterious Savute Channel, this tented oasis is the perfect base to discover the wonders of Chobe National Park
Breathlessly captivating, this corner of Botswana has long been associated with the world's greatest explorers, including David Livingstone. Follow in their footsteps at Belmond Savute Elephant Lodge.
Head out to the unique viewing hide at dusk or dawn, overlooking the watering hole, and see elephants, hyenas and cheetahs in their element. Then find a serene welcome back at the lodge. The contemporary interiors reflects the earthy tones of the wilderness, while eco-friendly design features keep you in harmony with the stunning landscape.
Let Secrets VIP take you on an unforgettable safari with Belmond and enjoy the following in the preferred, All Inclusive rates.
*From 1950 USD per person sharing per night, including:
Luxury accommodation
Safari activities
All meals and select drinks
National park fees
Emergency insurance
Round-trip flight from Maun to the lodge
*Minimum 2 night stay
Soak up the savannah in style
Belmond Savute Elephant Lodge boasts 12 luxurious tented rooms, each raised on a wooden platform to allow a breathtaking view of elephants in their natural habitat. Stretch out on your four-poster bed, or unwind in your shaded outdoor lounge. Pad out onto your sun-soaked deck for a spot of wildlife viewing, cocktail in hand.
"Luxury comfort with Botswana flair"
ACCOMMODATION
Our stunning safari accommodation includes a four-poster bed, complete with mosquito netting; lavishly appointed bathroom with every modern comfort; a dressing room; a fully-stocked minibar; and discreet air conditioning.
DINING
Savour the finest flavours of Africa
As impala glide through the savannah, be seated on our deck for an out-of-this-world dining experience. Sample signature African dishes prepared by our talented chefs paired with fine wines and champagnes. During the cooler season or in wet weather, meals are enjoyed under cover––but still in full view of the reserve's abundant wildlife.

* All Inclusive
"A sublime culinary safari"
Savour light breakfasts and fresh coffee as elephants parade nearby. Nightly campfire gatherings showcase local cuisine and African fables—enjoyed as fireflies dance in the shadows. Breakfast, lunch and dinner are included in your stay, with most dietary requirements catered for on request. Premium alcoholic brands and imported champagnes are available at an additional cost.

Savute Boma
An Ancient African Tradition -Don't miss the chance to experience a boma—it's the truest celebration of Africa.
Once a meeting place for senior tribesmen, a Boma combines delicious dishes, fire and music during one unforgettable night. Savour tender barbecued meats and other delicacies as we transport you to a land that time forgot
- More to Savour -
Private Dining 
Feast under African skies. Be seated on your private deck for one of the world's most unique dining experiences.
Savour expertly prepared dishes and fine wines served by a private butler. Raise a toast in the soft glow of candlelight, as big game dart across the horizon, and relish the intimacy of your surroundings. We guarantee it will be a memory you'll cherish forever.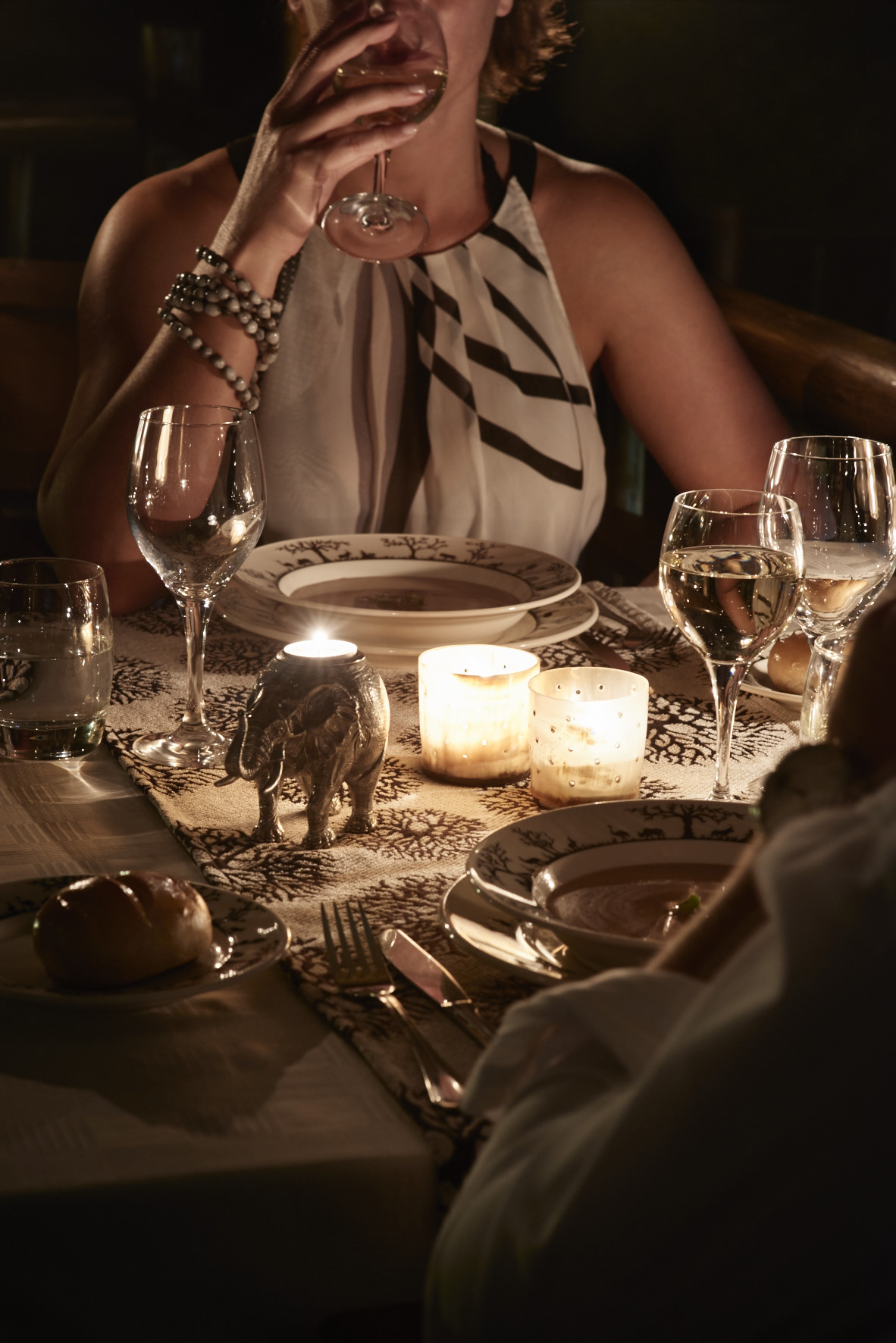 THE SPA 
Pad across the lodge to a quiet spot at the edge for one of the world's most unique spa experiences. You'll find yourself in a serene space, surrounded by the lush bushveld. It's time to put the hours on hold and lose yourself on a sense-soothing journey.
The intimate spa den shimmers with sage-green hues and hand-glazed tiles. Stylish rattan furniture and decadent handcrafted details, like the beaded chandelier, echo local pods and plants.
Breathe deeply and feel tensions melt away as you listen to the sounds of elephants in the distance.
After your treatment, spend a few moments relaxing on the spa terrace, where the magical sights and sounds of the Savute channel will leave you fully restored.
EXPERIENCES
Your gateway to the elephant capital of the world.
Our choice of game drives and activities let you get up close and personal with the wildlife of Chobe National Park. As well as high concentrations of elephant, the area is home to great prides of lion and other mighty predators.
Viewing Hide
Get closer to the life of the Chobe National Park than ever before.
Connect to the wildlife at eye-level from the lodge's unique viewing hide, overlooking the watering hole. From first light to dusk, you are guaranteed a front row seat to nature's drama. Depending on the time, you might catch lions, elephants, cheetahs, hyenas and antelope gathering for a refreshing drink.
Game Drives
Early morning and afternoon game drives let you encounter Africa's largest elephant population. You may also spot lions, wild dogs, leopards, cheetahs and hyenas. Enjoy rare sightings of rock-climbing klipspringers and elegant roan.
Depending on the season, you may also catch the second largest migration of zebra in Africa.
Birding
Chobe is a bird-lovers' paradise, particularly in the summer months from December to March. Over 250 species populate the area, ranging from vast flocks of gregarious queleas to giant kori bustards and an array of majestic raptors. Our expert guides can help you find the perfect place and time to find exactly what you're looking for.
Star Gazing
The vast open spaces around Savute make it the perfect place to experience the mesmerising expanse of the African night sky. Use powerful telescopes to witness constellations that you may never have seen before. You'll also discover how Bushmen used the stars to locate the true south.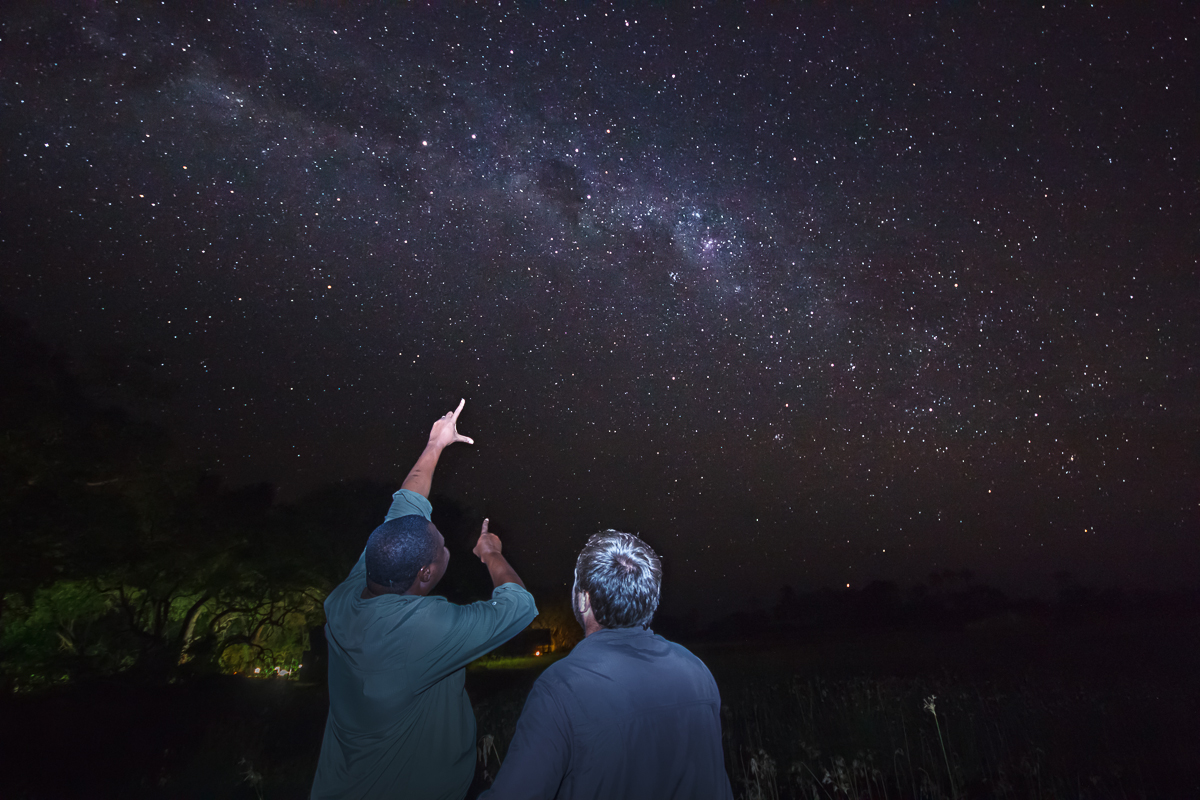 The Boma 
Gather round the campfire and exchange stories of your day's adventures, much as villagers do throughout Botswana. Flames flicker and lamps glow as drinks are served. A choir sings traditional songs and invites you to a buffet of African specialities. The evening often ends with everyone dancing, to rhythms handed down through generations.
Bushmen paintings and Baobab trees
Head out into the bush and find a collection of paintings that will take your breath away. These works by the San Bushmen are thought to be more than 1,500 years old. Then continue on to the amazing baobab grove, a cathedral-like cluster of 13 giant trees that are almost as old as the paintings.
At the Lodge 
When you're not out and about on safari, relax and unwind by the generous pool and take a cooling dip.
For amazing wildlife sightings on your doorstep, head to the permanent water hole in front of the lodge. Watch elephants gathering to drink, and at night, discover how the nocturnal sounds of Savute take on a whole new dynamic.