3 nights/4 days Kruger Park Golfing Safari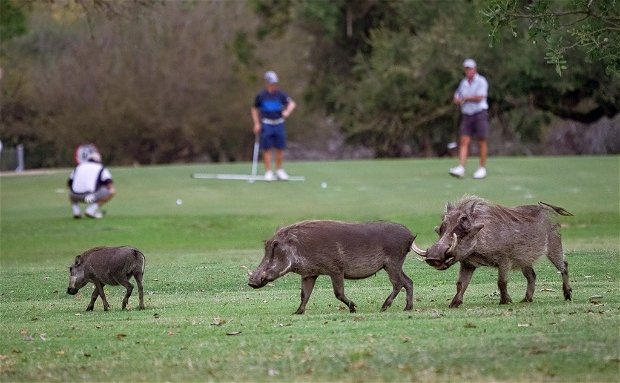 The Secrets VIP Safari and Golf package is an exclusive, custom made safari package for avid nature lovers who want to tick of this bucket list experience….available only to a very selected group. The ones who will dare to play a round of golf amidst the Kruger Park's wild animals, and even encounter the odd predator in "Golf's garden of Eden".
The special safari package for Secrets VIP guests, who are keen golfers of all levels, who would like to combine both experiences and visit this truly unique golf destination.

Your Secrets VIP golfing safari includes our amazing Kruger Park experience in our open vehicle safari vehicles and two rounds of golf .......that will forever be remembered ! 
Skukuza Golf Course – "one of the most unique 9-hole golf courses in the world"
The Skukuza Golf Course is a magnificent 9-hole (18-tee) course situated in the world-renowned Kruger National Park on the outskirts of Skukuza Rest Camp. The golf course was originally built in 1972 as a recreational facility for the Kruger National Park personnel, but has now been opened to visitors to the Kruger National Park for the first time. The rich wildlife sanctuary surrounding the golf course is home to the Big Five, a huge variety of birds and countless animals, which all conspire to provide the visitor with a harmonious close-to nature golfing experience.
The course is a Par 72, and is 5 831 m (6 450 yards) for men and 4 950 m (5 480 yards) for women. Since the course is not fenced-in, uninvited spectators are a common sight; hippo, impala, warthog and baboons to mention but a few. The course offers the pleasure of challenge and adventure. The Skukuza Golf Course has no bunkers, although 'aerial bunkers' abound because of the many trees found on the course.
Kambaku Golf Course
The Kambaku Golf Course situated in Komatipoort Mpumalanga is a 9 hole course set (18 tees) in the wildest corner of South Africa. At the confluence of the Crocodile and Komati Rivers along the foothills of the Lebombo mountain range. Ideally situated close to the Kruger National Park nestles a unique gem of a golf course that will challenge each and every level of Golfer. With the breath taking Lebombo Mountains as backdrop, you can retreat to the Bushveld, let your dreams take flight and enjoy a slice of heaven…
With its dramatic river frontage Kambaku golf course is the ideal golfing destination whilst visiting the Kruger Park on safari.   
Elephant, buffalo and hippopotamus are often seen in the river during the course of play.  If you are keen on "birdies" take binoculars with your clubs. Birdlife is prolific and the resident kingfishers, fish eagles and variety of bee-eaters to mention a few, make bird watching a must. Some time back a resident impala was taken by a leopard on the second green. This does not happen too often but adds to the uniqueness of this little-known golf course.  
The Golf course is named after the great tusker from the adjacent Kruger National Park. The word "Kambaku" translated from Shangaan means "Exceptionally Big Elephant Bull". Kambaku was one of the magnificent seven great tuskers of the Kruger National Park. Kambaku was an imposing animal fully deserving of the title bestowed upon him. The length the curve and the weight of his ivory were impressive.
Left tusk 259,5 cm weighing 63 kg his Right tusk 265 cm weighting 64 kg.
Kambaku had unique features. His tusks were almost identical, he had no "paint –brush" on the tip of his tail, had three horizontal creases or folds at the base of his trunk and a perfectly round hole in his left ear. These features made Kambaku recognisable from a distance. During the dry season Kambaku spent most of his time along the banks of the Crocodile River which today forms part of Kambaku golf course border.
PRICE INCLUDES: 
3 nights' accommodation at our 4 star Lodge 10 minutes from Crocodile bridge gate   
3 dinners and 3 breakfasts (or breakfast packs) 
3 half day Kruger Park game drives in open safari vehicle 
1 round of golf at Skukuza Golf Club with green fees and  golf cart included
1 round of golf at Kambaku Golf Club with green fees and golf cart included 
Return transfers from KMI International airport 
Services of a professional accredited tour guide
Conservation fees and entrance fees
Mineral water on all the drives
PRICE EXCLUDES: 
Daily lunches and beverages 
Gratuities 
Gallery
Itinerary
Day 1
You will be met at KMI International airport and transferred to the Lodge where a warm welcome awaits you.
Check in and orientation. 
Your guide will collect you from the Lodge at 14:30 pm for your first open vehicle safari.  
We exit the Kruger Park at gate closing time just before sunset and return to the Lodge where you will enjoy dinner and a relaxing evening.  
Day 2
After a good night's rest, we will be off to an early start for our morning game drive on route to Skukuza. Breakfast packs and drinks will be enjoyed en-route. Upon arrival, your guide will assist with the registering of your party for a round of unforgettable golf at this unique golf course. Lunch enjoyed at halfway.    
After a quick 19th hole we will be on our way and the safari continues in search for the over 100 mammal & 500 bird species. We return to the lodge late afternoon where you can then relax and even jump into the swimming pool before dinner.  
Day 3
Early morning pick-up for the start of your half day safari. After the breakfast stop, the guide will make his way to the Kambaku Golf Club. Upon arrival, your guide will assist with the registering of your party for your round. Lunch enjoyed at half way.
Informal prize giving can also be arranged.
We return to the Lodge after a great day in the bush and a walk on one of the most scenic golf courses in the South African bush.
Enjoy dinner and drinks whilst sharing memorable stories of your unique experience. 
Day 4
After breakfast at the Lodge we depart to the airport in time for your flight.